FDHS1210 Understanding Health and Health Promotion (UW & Partner)
Year 2017/18
University of Worcester - Lisa Porter. Halesowen College - Louise Parker. Herefordshire and Ludlow College - Kate James. The Learning Institute - Lorna Crouchen and Peggy Bent.
Students studying at partner institutions: you are welcome to use the resources available in The Hive in addition to your local library or learning resource centre. Please be aware The Hive may not hold copies of all the items on your resource list.

Students studying at The Learning Institute: Please note, any titles which are not available electronically (i.e. titles that don't have the blue 'online resource' link) will be available in your centre library/book cupboard.

Recommended for Purchase (or download)

2 items

Additional text books

7 items

The following additional items will support the learning from lectures throughout the year. They will provide you with further understanding of key concepts and help you to identify relevant literature for your assessments.

Health studies: an introduction 2015 (electronic resource)

Book Essential 3rd edition. This e-book has a 1 user licence. It provides detailed overview of topics discussed throughout the year.

Pre-Reading folder

2 items

Please read before our first session on 26th September 2017

Key concepts in health studies - Chris Yuill, Iain Crinson, Eilidh Duncan 2010 (electronic resource)

Book Essential Please read the Introduction chapter in preparation for session 1. A hard copy of this book is also available in the Hive; the book provides useful chapters summarising the models of health (LO3)

Week 1 & 2: Health and Well-Being

7 items

Please read to support discussions related to LO 1

Chapter 1: What is health? can be found in the recommended text section in Scriven and Ewles: Promoting Health: a practical guide.

Click on the link at the top of the list to download and read.

Additional items for weeks 1 and 2

5 items

The following are suggested readings to further your ability to discuss and critique the constructs of health and well-being. Not mandatory but useful.

Week 3: Life Course Approach

7 items

The literature provides a variety of reading to enable an understanding of health/well-being across the life course.

Week 4: Medical Model

3 items

This model is also described as the biomedical model, the deficit model and often focuses on illness/disease.

Week 5 Formative Task

2 items

See article and review study skills information on UW web site

Week 6: Social Model

4 items

Towards a social model approach? - Cecilie Bingham, Linda Clarke, Elisabeth Michielsens, Marc Van de Meer 26/07/2013

Article Further Provides useful comparison to medical model and insight into social model of disability within a work environment.

Week 7: Inequalities and determinants of health

5 items

These readings relate to LO2 and a variety of views about health/well-being.

Health Inequalities - Graham Scambler

Article Essential Read this to support understanding about impact of inequalities on health/well being

Week 8: Health Psychology and Lay Perspectives

4 items

How do our beliefs about health/illness impact? the chapter and books below look at these and provides input regarding a cause/effect in relation to health/well-being.

Week 11 Bringing it all together

3 items

Pre-reading: to support activity on blackboard

Page

This page provides you with reading that will support your learning about health, well-being and health promotion according to your specific areas of interest.

Useful material if you are working in settings with Children/young people. Also provides insight for the life course perspective.

An introduction to child and adolescent mental health - Maddie Burton, Erica Pavord, Briony Williams 2014

Book Essential Chapter 2 'Infant, Child and Adolescent Development' digitised. Read to gain an understanding of important theories related to child/adolescent development. If you are working with children/young people worthwhile purchasing this text.

Website Further useful website which contains literature, training resources and information that is useful when working with CYP and families.

Adulthood: Early and middle period

3 items

Useful information regarding adulthood and life course perspectives.

Dementia, Learning Disabilities and Mental Health related literature

8 items

Palliative Care/End of Life

6 items

Health Promotion related literature

10 items

Obesity rates in Wales 28/8/2013

Audio-visual document Further Please watch and answer questions listed in Blackboard

Social Determinants of Health: Claire Pomeroy at TEDxUCDavis 12/7/2012

Audio-visual document Essential the impact of social determinants on health please watch this before next week's session; write down some of the key points mentioned that were discussed in class but also in addition to points made in lecture

Other Useful websites and journals

11 items

The following will provide you with additional links to research and reports which will be useful when developing assessments.

Webpage Further Interesting interactive site looking at inequality in the US.

This section is provided for The Learning Institute students.
Creative Commons Attribution Non-Commercial 3.0 Licence
Profile Required
Reading intentions and notes are stored against your user profile. Please create a profile to use this feature.
My notes
You must be logged in to add a note
What are item notes?
You can use item notes to make personal notes on any of your reading items. Notes are private to you and will not be shown to other users.
You can review your item notes from the list, the item page or from your profile page.
---
How do I create an item note?
To make notes, first you must be logged in. Once logged in, simply click Add note? next to the list item you wish to make notes on. You can also make notes at the bottom of every item's detail page.
Your note will be saved automatically as you type.
Have you read this?
You must be logged in to set a reading intention
What are reading intentions?
Setting up reading intentions help you organise your course reading. It makes it easy to scan through your lists and keep track of progress. Here's an example of what they look like: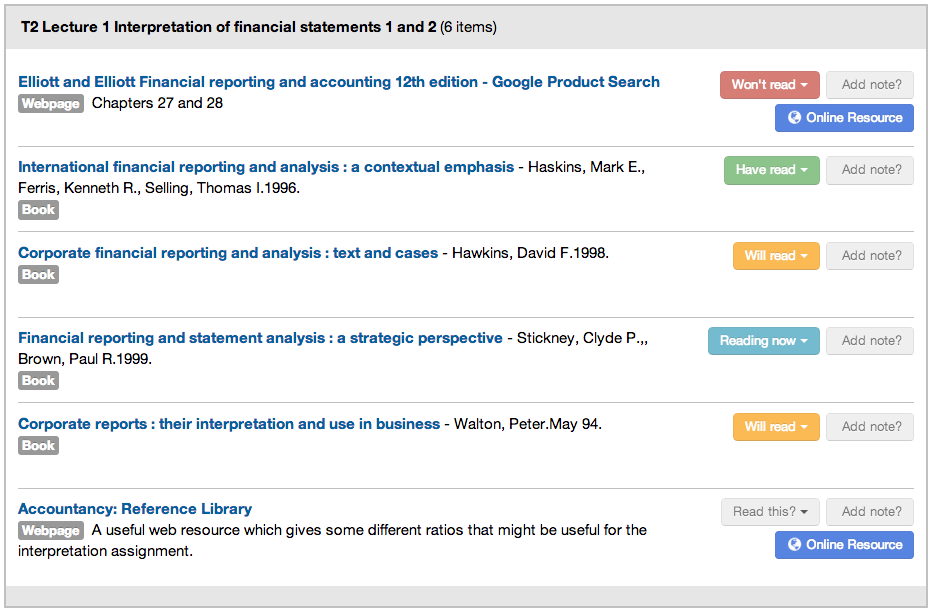 Your reading intentions are also stored in your profile for future reference.
---
How do I set a reading intention
To set a reading intention, first you must be logged in. Once logged in, click Read this? next to the list item you wish to set a reading intention for.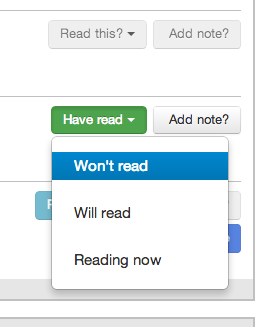 You can also set the reading intention from every item's detail page.