SOWK1001 The Context of Practice
Year 2017/18
Recommended for Purchase

3 items

Social Policy and Social Work - Jo Cunningham 2017

Book Recommended for purchase Chapter 3 digitised: 'Ideology, social policy and social work' pp. 55-63. Click the online resource button to view the digitisation.

Social policy for social work - Lorraine Green0745660835,9780745660837

Book A different style to Cunningham and Cunningham see which you like best!

Social problems and social justice - Neil Thompson 20179781137603616

Book A really accessible text, which will be very useful if the idea of social justice (a fundamental social work value) is a new concept for you. This is what social work is fundamentally about!

Social work, poverty and social exclusion - Dave Backwith 20150335245854,9780335245857

Book A really detailed analysis of poverty and social exclusion and an inspiring read. A bright new future for social work is predicted! Ebook and print available.

The short guide to social policy - John Hudson1447325680,9781447325680

Book Good introductory text to key social policy debates including a strong international perspective. Will help you to avoid being euro-centric!

Social policy in Britain - Peter Alcock, Margaret May 20149780230346352

Book Further For those of you who have a sound grasp of the subject and want to delve deeper!

Social work theory & practice - Lesley Deacon 20171473958709,9781473958708

Book Further This book is an excellent theory to practice book and could be used across several modules. The relevant chapters for this module are Chapter 16: Radical Social Work and Chapter 19: Classical and modern management theories

articles for reading!

3 items

Audio-visual document Essential When watching this consider the following: 1. Dilemmas for the social worker 2. Was there an inclusive approach to practice? 3. Could you evidence partnership working?

Website A Scottish perspective! Always useful to see how policy and practice differs across the UK.
Creative Commons Attribution Non-Commercial 3.0 Licence
Profile Required
Reading intentions and notes are stored against your user profile. Please create a profile to use this feature.
My notes
You must be logged in to add a note
What are item notes?
You can use item notes to make personal notes on any of your reading items. Notes are private to you and will not be shown to other users.
You can review your item notes from the list, the item page or from your profile page.
---
How do I create an item note?
To make notes, first you must be logged in. Once logged in, simply click Add note? next to the list item you wish to make notes on. You can also make notes at the bottom of every item's detail page.
Your note will be saved automatically as you type.
Have you read this?
You must be logged in to set a reading intention
What are reading intentions?
Setting up reading intentions help you organise your course reading. It makes it easy to scan through your lists and keep track of progress. Here's an example of what they look like: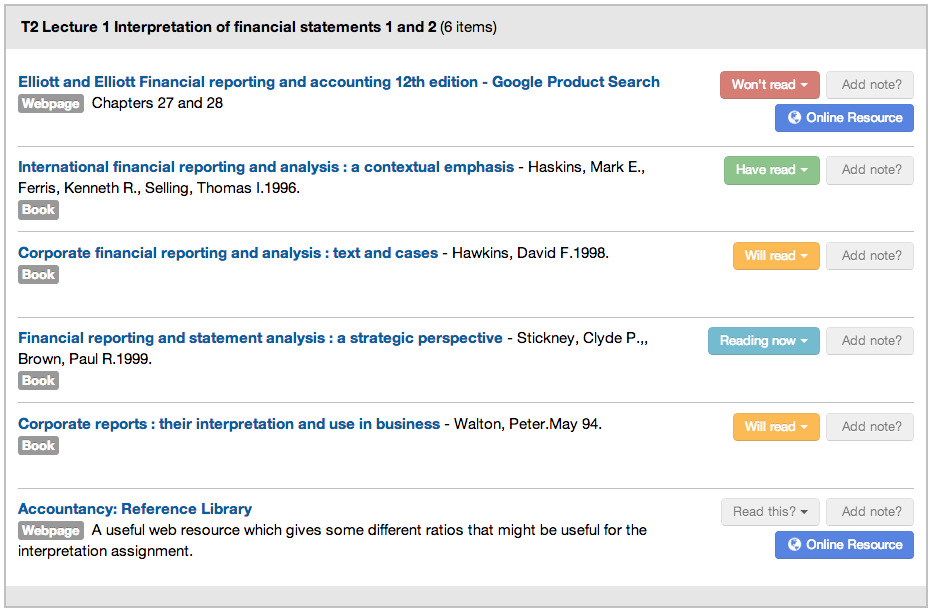 Your reading intentions are also stored in your profile for future reference.
---
How do I set a reading intention
To set a reading intention, first you must be logged in. Once logged in, click Read this? next to the list item you wish to set a reading intention for.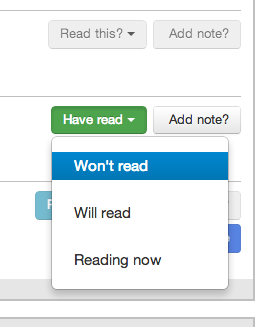 You can also set the reading intention from every item's detail page.