FDEY1504 Working Together to Develop Positive Learning Environments (Practice Based Learning) (UW & Partner) (Across Semesters)(to be archived)
Archived
This list has been archived
Students studying at partner institutions: you are welcome to use the resources available in The Hive in addition to your local library or learning resource centre. Please be aware The Hive may not hold copies of all the items on your resource list.

Students studying at HoW College (HoW Redditch and students starting at HoW Worcester campus from Sep 2016): you are welcome to use the print resources available in The Hive in addition to your local library or learning resource centre. Please be aware that University online resources are not available away from The Hive, due to licence agreements, but you can use some University resources when you are logged into a Hive PC.

Top tools to support you in completing your reading

10 items

There are lots of strategies and methods to engage with literature. You may prefer to curl up with a print book in the library, scroll through an ebook on your laptop in a cafe, or set up a Text to Speech player while you cook at home. You may find that you want to read different items in different ways at different times - there is no one way of reading, so feel free to experiment to find what works for you.

Here you will find a short list of recommended tools that can enhance your use of electronic books, journals and other resources. These specific tools generally work best using smart browsers like Google Chrome, but all browsers will have a range of options available. This list is far from exhaustive! You are encourage to explore other options and feedback what works well (and less well) for you to help this list develop.

Do you find reading from a screen to be difficult or uncomfortable? Use 'ATBar' to adjust your settings. ATBar is a free toolbar you can add to any web browser, and has lots to offer for everyone. You can change font style and size, add a colour overlay to reduce screen glare, and use the Text to Speech function to listen to your reading, as well as a dictionary and spellchecker, both handily embedded. Click on the links below for more about how this tool could support you alongside easy to use instructions.

Do you prefer to learn by listening? NVDA is a free and powerful screenreader, that supports over 50 languages and works across many web browsers, including Google Chrome and Mozilla Firefox, and Microsoft Office programmes like Word. If you learn better by listening, this tool will be really useful. Have a look at the links below to explore this useful tool.

Are you often overwhelmed with the amount of text that you have been asked to read and give up before you start? Speed reading apps break down large blocks of text into small chunks of words, and allow you to choose the speed at which you scan them (warning: don't start too fast!). It seems a bit strange to begin with, but can help with focus. Below are a couple of suggestions that might support you in this approach to supporting your engagement.

Essential Reading

46 items

Enabling Environments

5 items

Creativity and Curiosity

6 items

Forest School / Natural Environments

6 items

Digital Environments

2 items

Emotional Environment / Key Person / /Health & Well-Being

9 items

Inclusion and Diversity

5 items

Pedagogical Documentation

4 items

Challenging Reading

5 items

Study Skills Handbook - Stella Cottrell 20139781137289254

Book 4th edition print. Print and eBook available.
Creative Commons Attribution Non-Commercial 3.0 Licence
Profile Required
Reading intentions and notes are stored against your user profile. Please create a profile to use this feature.
My notes
You must be logged in to add a note
What are item notes?
You can use item notes to make personal notes on any of your reading items. Notes are private to you and will not be shown to other users.
You can review your item notes from the list, the item page or from your profile page.
---
How do I create an item note?
To make notes, first you must be logged in. Once logged in, simply click Add note? next to the list item you wish to make notes on. You can also make notes at the bottom of every item's detail page.
Your note will be saved automatically as you type.
Have you read this?
You must be logged in to set a reading intention
What are reading intentions?
Setting up reading intentions help you organise your course reading. It makes it easy to scan through your lists and keep track of progress. Here's an example of what they look like: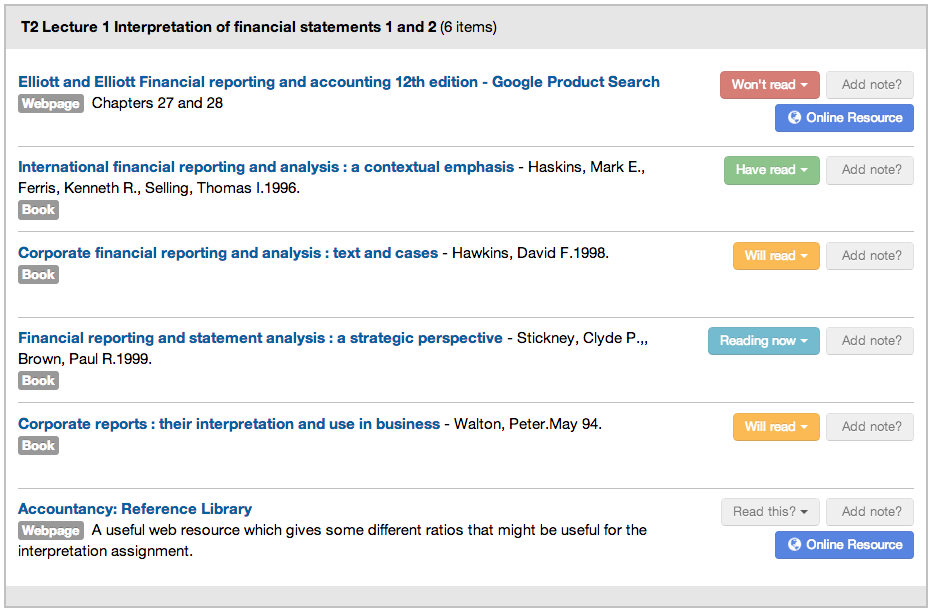 Your reading intentions are also stored in your profile for future reference.
---
How do I set a reading intention
To set a reading intention, first you must be logged in. Once logged in, click Read this? next to the list item you wish to set a reading intention for.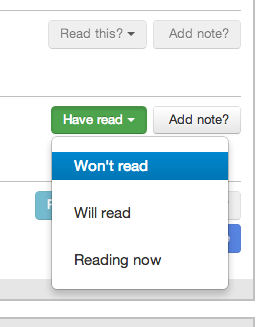 You can also set the reading intention from every item's detail page.